SaaS applications
Quickly develop and confidently scale your SaaS application on your cloud stack of choice. Leave the database operations to us.
Three reasons to develop your B2B apps on Fauna
App features, not data operations
Fauna is consistent so your app doesn't need to close the eventual consistency gap. No servers, no capacity planning, provisioning, sharding, patching, or upgrades. You focus on developing features, not managing data infrastructure.
Scale across customers and regions
Instantly spin up a DB per customer with one API call with DB multi-tenancy. Start in any distributed Region Group with high reliability and performance and easily scale across regions while complying with SOC2, GDPR, and HIPAA.
Develop with your stack
Code in your language of choice on infrastructure from AWS, Azure, Cloudflare, Fastly, Azion, GCP, Netlify, and Vercel. Integrate identity from Auth0, Okta, Clerk, NextAuth.js, and Stytch. As your tech evolves, so does Fauna.
Partners & Integrations
We play well with others
Fauna is compatible with cloud infrastructure from AWS, Azure, and GCP and integrated with edge compute functions including Cloudflare Workers, Fastly Compute@Edge, and AWS Lambda. See our partners page for more integrations with leading third-party providers.
Get started for free
Ready to ship apps faster? Start today.
See why customers choose Fauna to run their SaaS applications
Our single region AWS infrastructure didn't enable us to meet the needs of our expanding customer base. With Fauna, we get a strong consistency, built-in replication and no operational overhead.
Yacine Hmito, Head of Technology at Fabriq
With millions of users accessing client websites simultaneously, Fauna supports seamless scaling that optimizes performance and cost.
Artur Tomusiak, Senior Software Engineer at Hannon Hill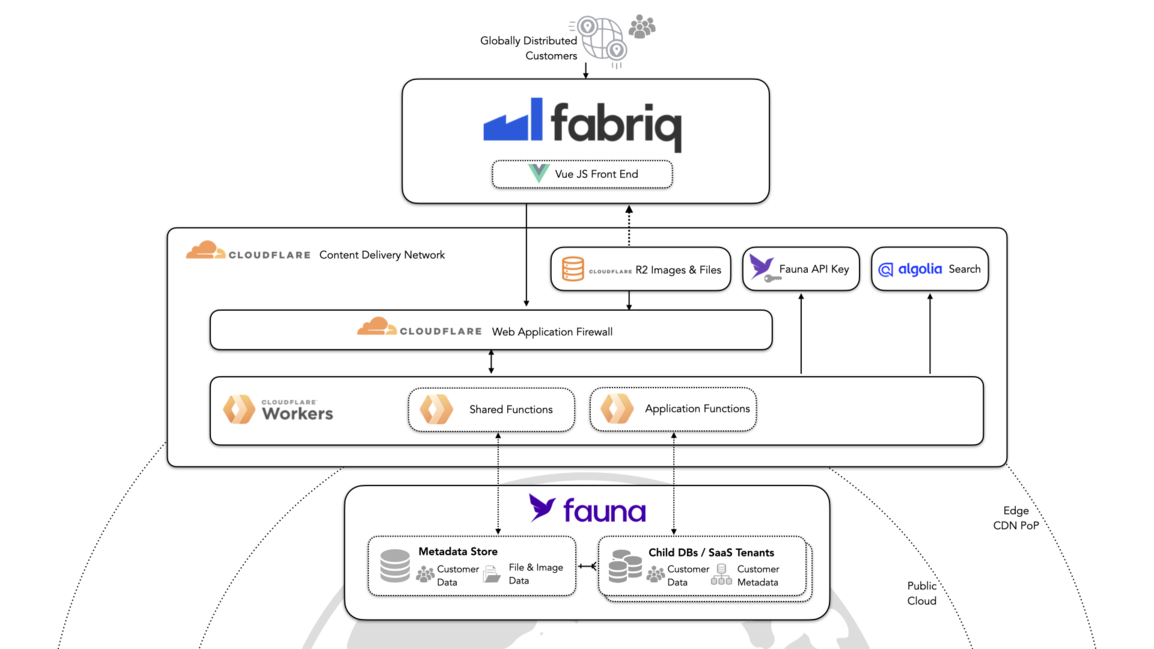 Visit our case studies to see reference architectures and learn more about our customers.
FAQs
What is Fauna?
Fauna is a distributed relational database with a document data model delivered as a cloud API. Fauna offers advanced querying capabilities, robust consistency guarantees, and comprehensive support for data operations. Developers can leverage Fauna's strongly typed database language, FQL v10, to express complex business logic in transactions. With multi-region, active-active compute and a distributed transaction engine, Fauna ensures fast, reliable, and secure performance. Fauna provides flexible data modeling, global data access, and integrates seamlessly with various development tools and platforms. Fauna empowers developers to build new powerful applications faster, scale existing applications with confidence, and eliminates the need for server management with its serverless native approach.
How much does It cost?
Our pricing is designed to give you all the capabilities to build and test your applications for free. When you are ready to move to production, simply pick a plan that best suits your needs. For more details on Fauna's billing and metering, see our documentation:
https://docs.fauna.com/fauna/current/learn/understanding/billing
.
How does Fauna support multiple tenants for my service?
Fauna allows you to have a hierarchy of databases that can create silos for your customers. Fauna's attribute-based access control and integrations with identity providers provide multiple levels of security. Further, if you need to geographically restrict data locality, Fauna is fully compliant with GDPR, and you can choose to have dedicated topologies across the globe.
How much bandwidth do I get?
Depending on which plan you select, you will get different levels of bandwidth. For more information on our metering, you can see our documentation.
If I decide to cancel, how can I cancel?
If you wish to make changes to your Fauna account, you can contact support at support@fauna.com.
Request a demo.
We're happy to give you a personalized walkthrough with one of our Fauna experts.